Answer
: They were the authors of a number of books I got this week, for dirt cheap. Here are the books I picked up, 8 of them, for $9 even (once again, at the K-Zoo public library; by the way, the are selling the first edition of the 12-volume Interpreter's Bible Commentary set, as well as the 5-volume Greek Expositors Commentary set, for $50 each if anyone is interested, you can send me the cash and I'll pick either of them up for you). Anyway, here are the steals I stumbled on this week: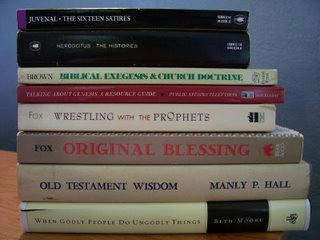 *Juvenal:
The Sixteen Satires
*Herodotus:
The Histories
*Raymond E. Brown:
Biblical Exegesis & Church Doctrine
*Matthew Fox:
Wrestling with the Prophets: Essays on Creation Spirituality & Everday Life
*Matthew Fox:
Original Blessing
*M. P. Hall:
Old Testament Wisdom

*P.A.T. :
Talking About Genesis
*Beth Moore: When Godly People Do Ungodly Things (for the wife!)


I've said it before and I'll say it again, if you're ever in K-zoo, MI, you have to stop by the bookstore at the public library!